How might we help people take control of their financial health?
Each week, hundreds of millions of loyal customers choose Walmart to make the most of their time and money. This loyalty gives Walmart a unique opportunity to expand their brand beyond the walls of their stores and help people save money in many other parts of their lives.

After extensive qualitative and quantitate research, we discovered a number of opportunities unique to Walmart to satisfy some of the more difficult problems in people's financial lives. From this we created the financial ecosystem Life Wallet. At it's core, Life Wallet is a scalable platform and suite of tools to gives people more ways to save money, earn money, and get visibility into their financial health.



Research
Understanding the problem

As a way to understand the unmet needs and pain points of Walmart customers, we started by interviewing 50 customers that we felt had a unique point of view. While talking with them, we noticed a number of overlapping patterns emerging that helped us identify problems that were shared by the greatest number of people. From these problems, we generated hundreds of potential solutions and shared some of them back with consumers for feedback. We rigorously iterated and retested concepts with hundreds of customers to find what resonated the most with people. These surviving concepts became the foundation for what is the Life Wallet ecosystem. The following is a synopsis of both the problems that we discovered and the solutions that we built to help customers make the most of money and time.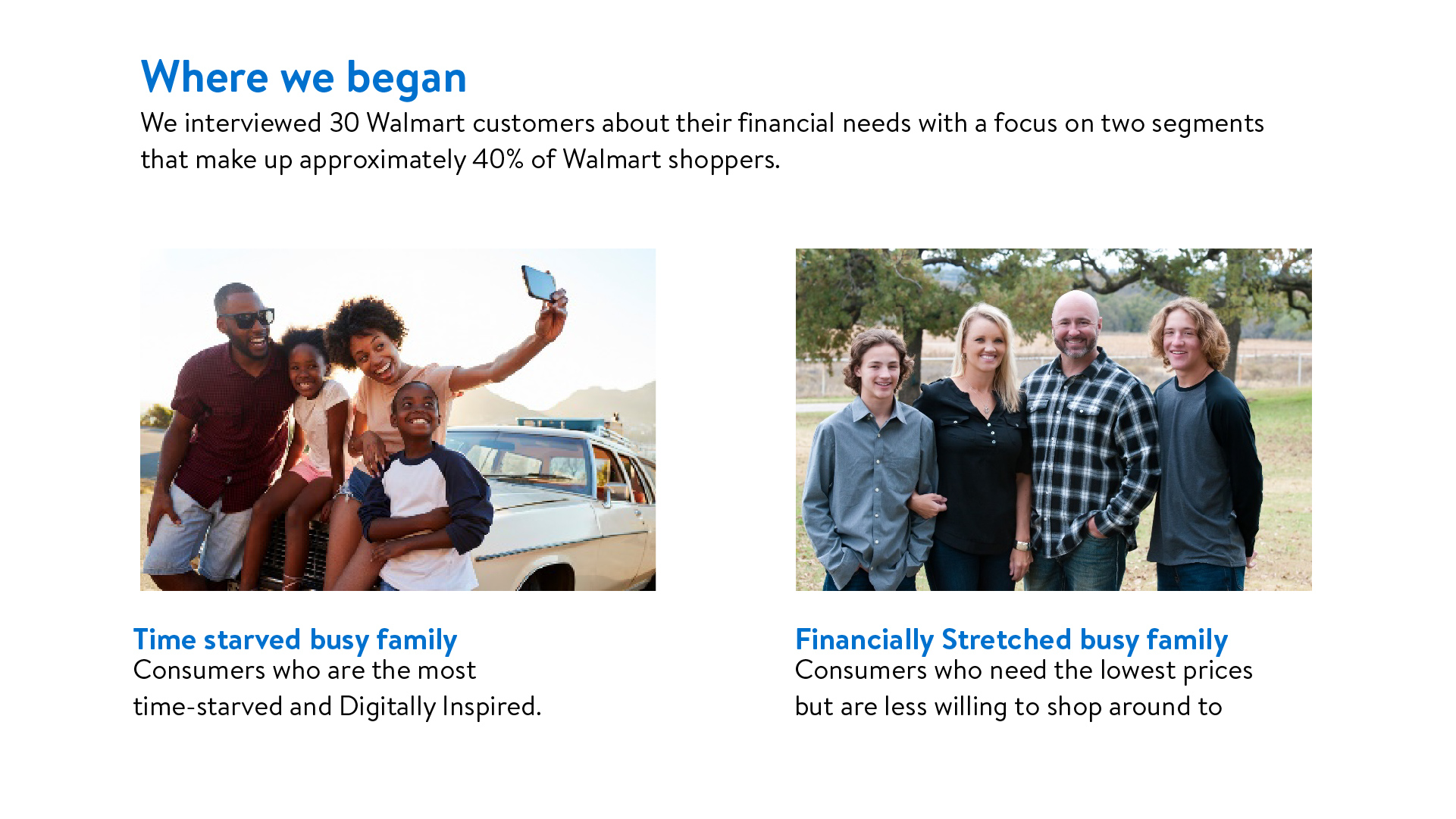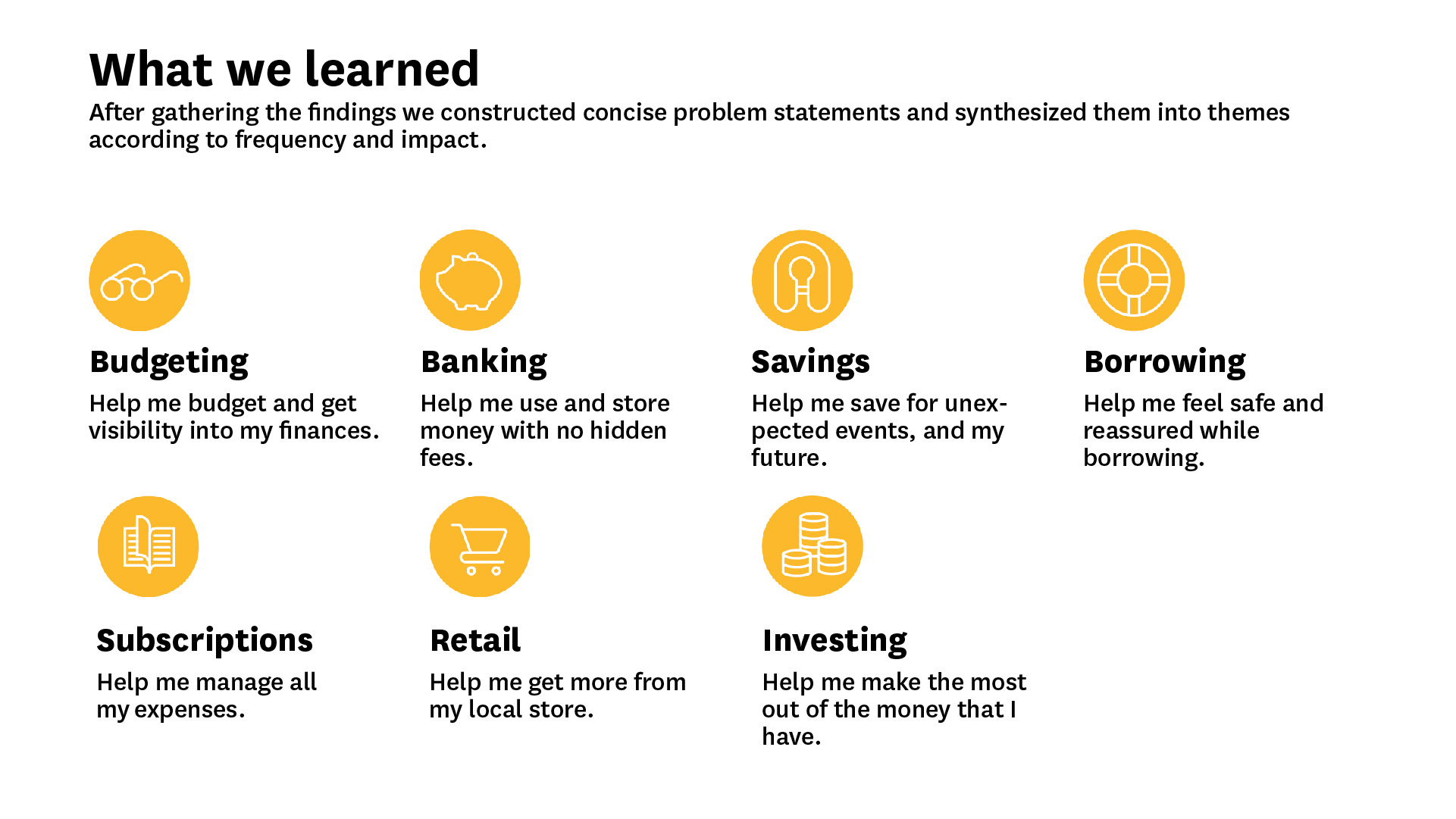 Problem 1.
Saving money takes too much time



Problem: The thing that we heard the most is that they want to save money, but not at the expense of their valuable free time. Flipping through couponing apps becomes less enticing over time time and can sometimes encourage poor financial behavior. We heard loud and clear that customers needed an effortless way to save money and find lower cost alternatives to the products that they need.


Solution: From this, smart swap was born. It is a simple tool that automatically finds similar products at lower price point or generic version. This gives the customer back the power of choice with little inconvenience so they can make the best decision for their needs instead of the mercy of what items are sponsored to show up first in your search. This works because of the scale of walmart's inventory


Cart Helper & Smart Swap Sacraficial Concept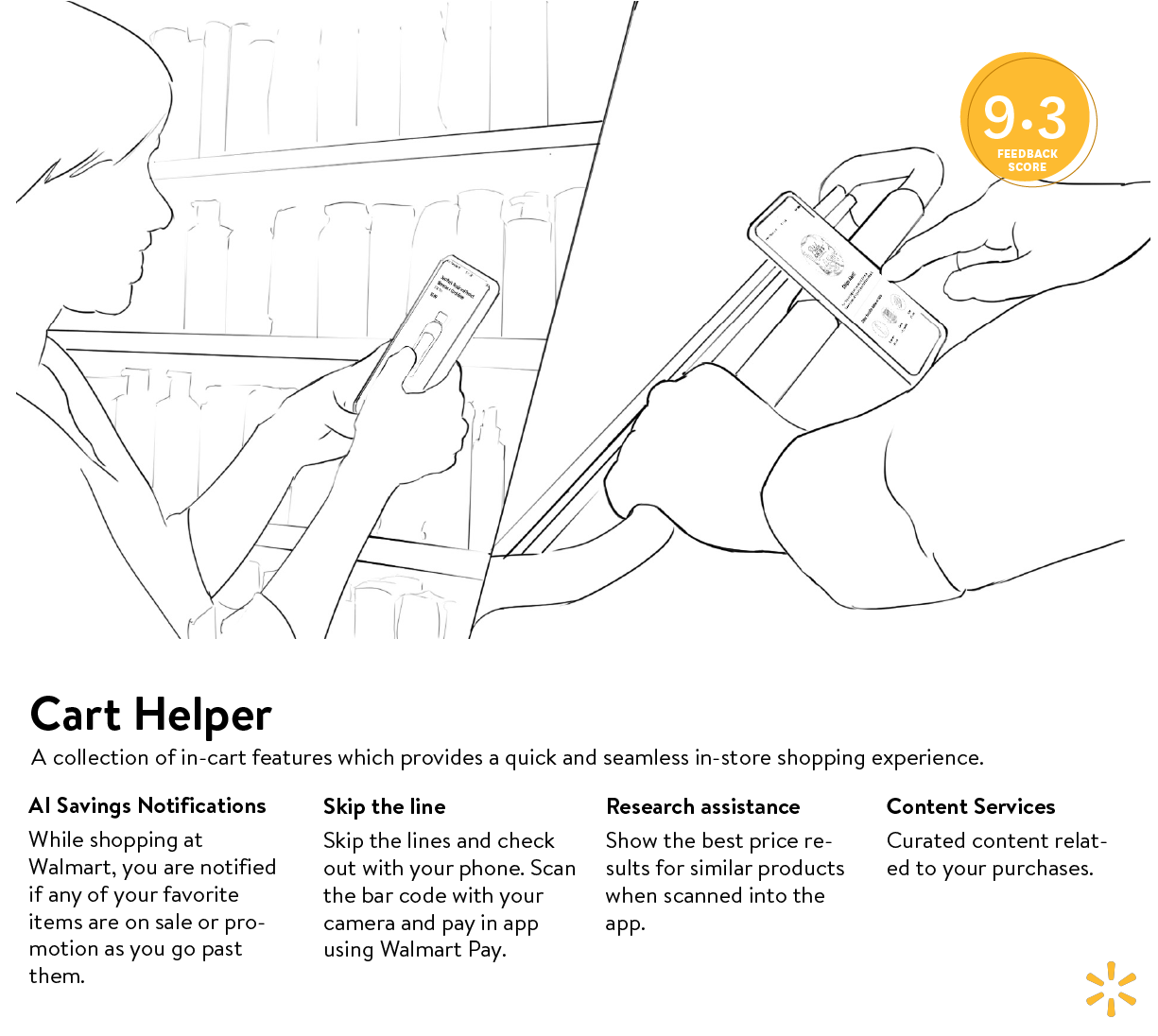 Problem 2.
People need flexibility with large or unexpected expenses

Problem: Another thing that we heard from just about everyone is that life events are almost always unecepectl and that many people are not prepared for them. This can put people in a challenging financial position and can sometimes trigger a cascade of negative concequences leading them to make compromising financial decisions. When this happens, food and other basic living essentials can become lower priority placing people in challenging or unhealthy situations.


Solution: As a way to solve this we had to create tools to give people more financial flexibility. We created Instapay, an advance on already earned but undisputed income, on demand installments with flexible payback options, and payaway, a directed spend account to help people save for things that they need.
Flexible Payment Sacraficial Concept
Problem 3.
Financial tools are built for individuals but are used by families

Problem: Walmart is unique in that a vast majority of customers live with families and often share resources and responsibilities to make things work. We observed that they often split bills, swapped money, and collaborated with one another. This became our inspiration to create a digital version of what families did naturally: planning events, pooling resources, sharing money, giving gifts, exchanging ideas, and other collaborative activities.

Solution: To solve this we created the family plan which allows families to work together and reduce the friction that comes with sharing money and financial responsibility. It allows families to share money between one another, send gifts, split bills, collect and pool money for events, and even plan events with collaborative lists. It was designed with the goal of brining families together and help them work together to improve their financial future.
Family Plan Sacraficial Concept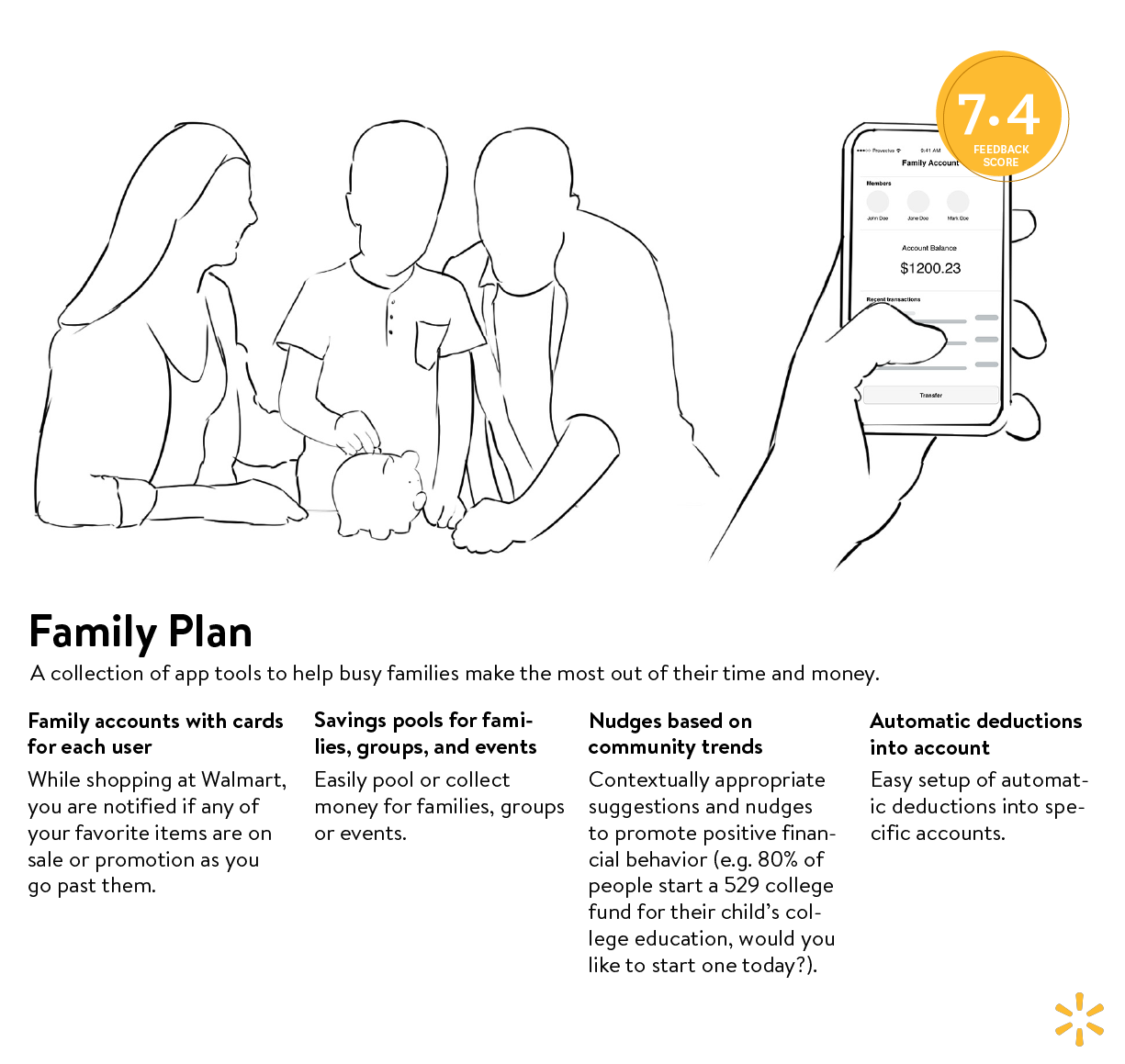 Problem 4.
Incentives drive behavior.

Problem: People have a lot of options and more than ever, people need incentives to give you their attention and hard earned dollars. So how can offer customers even more than the lowest possible price? To do this we discovered hidden value that lied with the customers: their thoughts, opinions, and experiences.

Solution: To solve this we had to find something that is very valuable but underutilized: customer feedback. We created a platform where suppliers would offer small rewards in exchange for feedback on the products that they purchase as a way to close the loop between supplier and customer so they can build better products and cultivate relationships with customers

We also built a peer to peer grocery delivery service that gives people extra money to deliver groceries to people in their neighborhood. People love feeling more connected with their community earning money by doing something were doing anyways.
Income Generation Sacraficial Concept
Problem 5.
People need tools that offer visibility and control over their expenses

Problem: Our lives are very complex and we often don't have the information that helps us get the best price or value. To help people make better financial decision we need to give them better information, visibility and control into their spending behavior. We found that recurring expenses, subscriptions and other services can often slip through the cracks or go unnoticed and that people frequently don't know they are paying more than they should.

Solution: To solve this we created a suite of expense management and visibility tools to help you get a hold of your expendures. It includes a safe to spend amount, or a single number that factors in all your upcoming expected expenses and spending patterns; the Looking glass, or comparison tool of your monthly costs versus other people with the same services; and subscription management dashboard, a set of simple controls and visualization tools for your recurring expenses.
Bill & Subscription Management Sacraficial Concept
Testing & Validation
Testing the concepts
The scale of the Life Wallet product requires a significant amount of consumer feedback in order to gauge desirability. To do this we collaborated with Nielson to survey 1000+ customers in two different segments that make up 40% of their customer base. (Time staved busy family, Financially stretched busy family). We compared the new concepts against high performing existing products, namely Walmart pay & savings catcher which boasts more active users than Apple pay. A number of concepts performed better or on par with Walmart pay and savings catcher which gave us a strong foundation from which to start from.
Solution.
The Walmart life wallet: A financial ecosystem
A suite of tools to help you make the most of your money and time.
10B in direct and indirect revenue
open ecosystem
Collaborative and shared shopping lists

Smart swap: instantly search for cheaper alternative items of comparable quality

Instant Installments: one click year round installments on all purchases

Pay Away: a more powerful version of layway with directed spend

Instapay: Instant point of sale loans on earn but not received paycheck

Split Bill: Split bill of any percentage with family or friend

Family Plan: Add people to you account to share and send money back and forth

Grocery delivery: earn money by delivering groceries in your neighborhoood

Product feedback platform: earn money by providing valuable feedback to vendors abou their products

Bill Management: see upcoming expenses, easly turn on and off subscriptions, and find offers from competiting service providers for services.

Prize linked savings: each money somone wins return from interest.

Life event suggestions: get relavent suggestions about financial options (e.g. 503 college fund)